Photoresist Silver Coating
After hologram image is recorded onto photoresist glass, we have to do silver coating onto photoresist glass. Then the photoresist is conductive on surface of hologram. When the phoresist put into soft tank of electronic forming, the electric current will transmit onto hologram image and coating nickel onto photoresisit. This process is quite easy, but important step for furtther hologram production. There's two type of silvering process. One way is spray silvering chemical onto photoresisit. Another way is to soak photoresist in silvering chemical.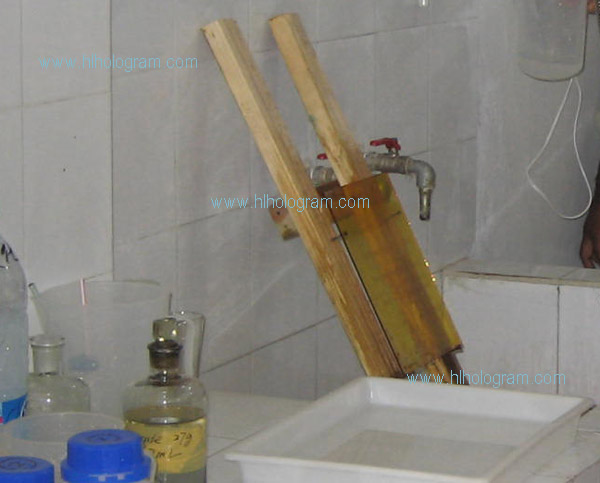 The photoresist should be clean first. Otherwise, the silvering process will face problem. After cleaning, the photoresist will be put into small container for silvering coating. There's chemical in the container. We also can spray the silver onto photoresist, the result is same.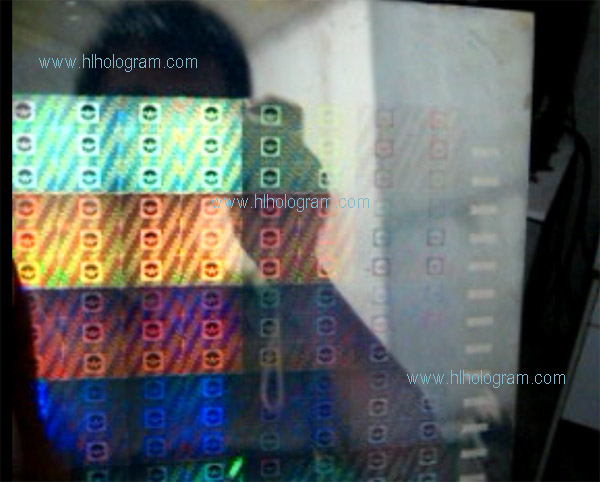 The photoresist have one layer silver coating. It's ready for electronic forming to make nickel holographic master origination.
Affordable Hologram Machinery Hologram Sticker Production Photoes Hologram Hot Stamping Machinery and Project
List of Hologram Making Machines download Video of hologram project sample
#1. Type A 2D/3D holographic master Shooting System download Video of 2D/3D master shooting 1 2 3 4
#2. Type B 2D/3D holographic master Shooting System
#3. Dot-matrix holographic master Shoooting System download Video of Dot-matrix master shooting 1 2 3
#4. holographic master Recombination Machine download Video of Recombination 1 2
#5. Electronic Forming Machine
#6. New Mode Simple Hard Hologram Embosser download Video of hologram hard embossing machine
#7. Old Mode Hard Hologram Embosser
#8. Wide Web Soft Hologram Embosser download Video of soft hologram embossing machine 1 2
#9. Hologram Sticker Lamination Machine
#10. Hot Melt Glue Coating Machine for Hologram Hot Stamping
#11. Hologram Sticker Automatic Die-cutting Machine download Video of die-cutting machine
#12. Hologram Sticker Automatic Sheeting Machine download Video of sheeting machine
#13. Big Bridge Coating Machine for wide web hologram film, wide web hot stamping foil production
#14. Automatic Hologram Hot Stamping Machine Video of Hot Stamping Machine 1 2
#15. Automatic Sequin Punching Machine (not produced by us, it's from other supplier)
#16. Vacuum Metalizers for Metalized Films and Metalized Paper(not produced by us, it's from other supplier)
Video of running hard embosser V1 V2 Video of running wide web soft embosser V3 V4 Video of running laminator V5 V6
Learn More About Holographic sticker Sample 1 2 3 4 5 6 7 8 9 10 11 12 13 14 15 16 17 18 19 20 21 22 23 24 25 26 27 28 29 30 31 32 33 34 35 36 37 38 39 40 41 42 43 44 45 46 47 48 49 50 51 52 53 54 55 56 57 58 59 60 61 62 63 64 65 66 67 68 69 70 71 72 73 74 77 76 77 78 79 80 81 82 83 84 88 86 88 88 89 90