Shanghai Henglei Hologram CO.,LTD is a hologram company established by several experts having more than ten years experience in hologram industry.
We supply whole set hologram machines including holographic master shooting system, electronic forming machine, hologram embosser, lamination & coating machine and die-cutting machine. Affordable Hologram Machinery Holographic Sticker Production Photoes Hologram Hot Stamping Machinery and Project Hologram Foil Pattern. Holograms have 3D stereogram hologram, digital 3D hologram, 2D/3D hologram, Dot-matrix hologram and recombination of different types holograms to enhance security. Assistant secuity features such as hidden texts, micron text, kinematic guilloche lines, pearl dots, true color/photo, flip-flop/switching/multi-channels, solid white, flash fight, will improve security too. The hologram has the more security features conbination will have more security. Security pressure tamper evident holographic stickerwith "VOID", "ORIGINAL", honeycomb shape pattern released feature, black serial number and transparent demetalized sequantial number, laser hidden text, morie hidden text and special micron text also enhance your security greatly. We have more than one hundred general designs hologram label and holographic film, hologram hot stamping foil, transparent hologram ID overlay in stock. We also supply different size holographic master origination upto size 1200mm*650mm.
Learn More About holographic label Holographic label samples 1 2 3 4 5 6 7 8 9 10 11 12 13 14 15 16 17 18 19 20 21 22 23 24 25 26 27 28






We produce holographic label, holographic film, holographic cards, holographic gift and sell mastering system, electronic forming machine, hologram embosser(including soft embosser and hard embosser), gluing (adhesive) machine and die cutting machine.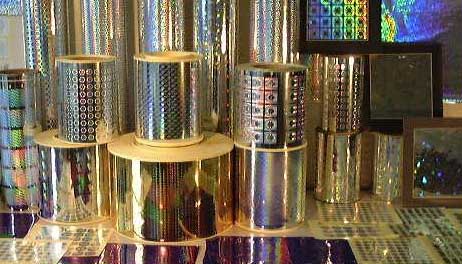 For years Henglei always concentrated on holograms. With advanced equipment, technique and management, especially low cost, we are appointed as the worldwide agents of many purchasers. Attributed to our high quality, low price, service and good reputation, we have received a number of recognition and appreciation from clients all over the world. We also accept OEMs. If you are looking for a supplier.


Today counterfeiting has become a very big problem in economy around the world. Genuine brands are loosing a considerable portion of their sales. To fight against the ills of counterfeiting, the holograms and other holographic products are used worldwide to protect and promote the brand names. Having played a pioneering role in holographic products in China and having modern manufacturing facilities for bulk production of holographic products, all under highly secured environment, we are best equipped to provide practical solutions to problems of brand protection.