Combination hologram creates an impact that has extra-ordinary viewing effects and also security features. Usually, it's good to combine different hologram feature together. For example, to add dot-matrix hologram which has shiny kinematic movements effect into 2D/3D hologram which has sharp logo/text with deep viewing depth in second layer. It's also is available to add hidden text and micro text into 2D/3D and Dot-matrix Holographic Label.Flash light security feature and stereogram improve hologram appearance and security too. Customer also can do better security onto hologram sticker personally by adding some further security characteristics, such as serial number, barcode, overprinting onto our tamper evident hologram or special tamper evident pattern released hologram. To improve security, we recommend to make dot-matrix hologram + 2D/3D hologram+ 2D hologram + hidden text + micro text + flip-flop + kinematic guilloche elements, parttern released material and print sequential numbers onto holographic sticker.
Different hologram features combination -----Samples Page 1 2 3 4
G. Steregram, Flashlight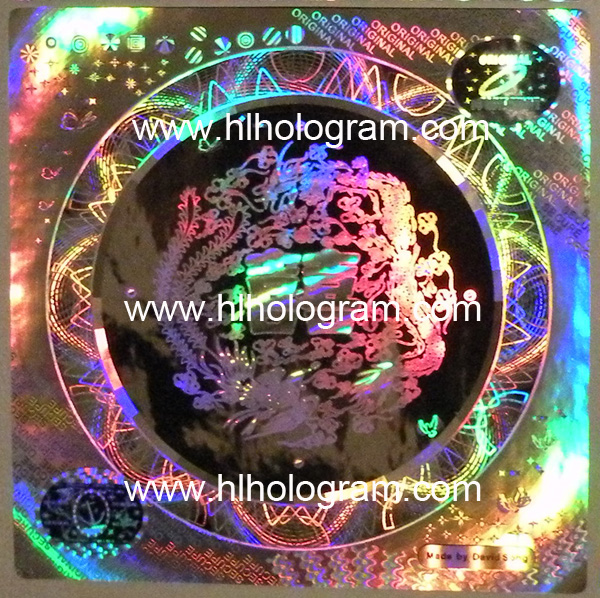 The small ring(on the right top) and anchor(on the left bottom) with the star background is made by digital 3D holograms. The small ring and anchor image shows good 3D effect and depth.
Flash light is a movement security ray come from deep background. It has good security feature because new made hologram flash light will have obviously difference.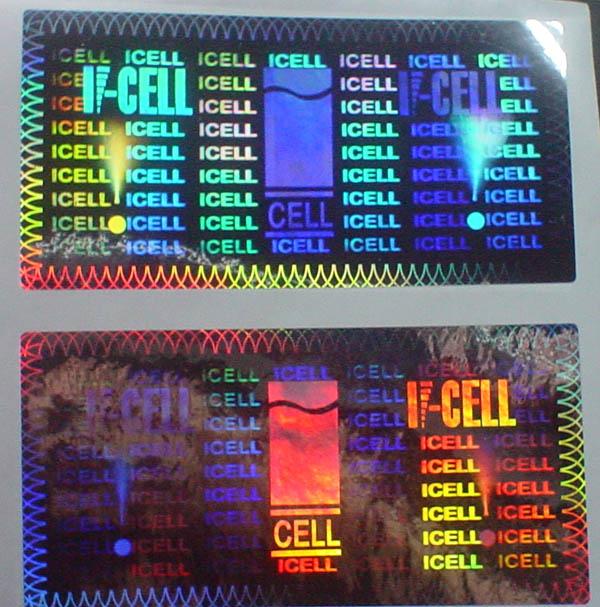 There is laser readable hidden text inside sticker togetherwith two flash light in each side. The moving ray of beam come from deep background. The shape and area of beam will change, meanwhile color of beam change continously when turn hologram angle slightly.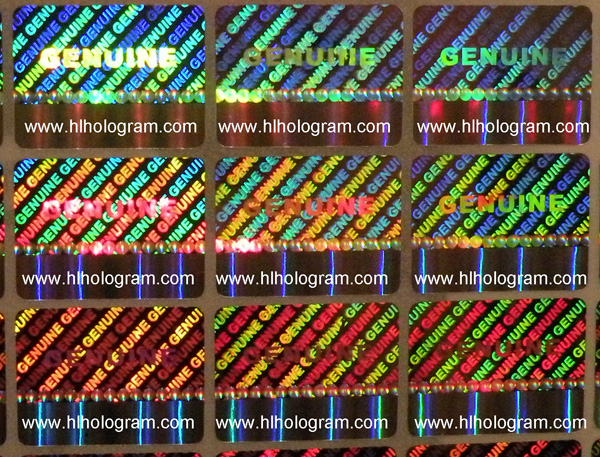 There're a flash hologram dots lines under the GENUINE background. These dots have much higher resolution than Dot-matrix Holographic Label. So it has more smooth animaiton light effect.
H. Hologram features intergrated in hologram overlay, hologram hot stamping, scratch off hologram, etc.
Transparent hologram Overlays for I.D. Cards extends the card life and enhance the security of your ID cards. The holographic overlay prevents terations to the ID card information and combats copying or duplicating the ID card.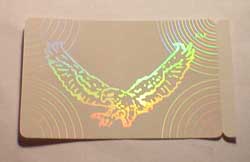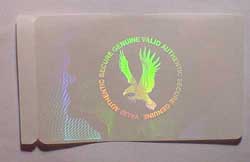 Hologram overlay and hologram pouch protect card and license. These transparent hologram also can have intergated hologram security elements.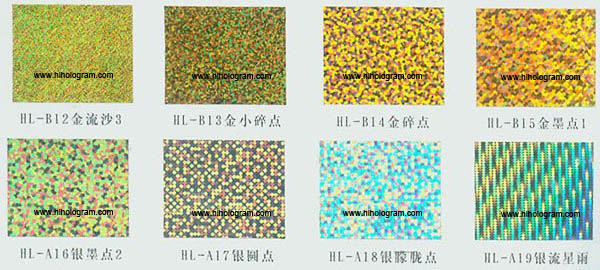 Hologram hot stamping also can different holgoram combined security features.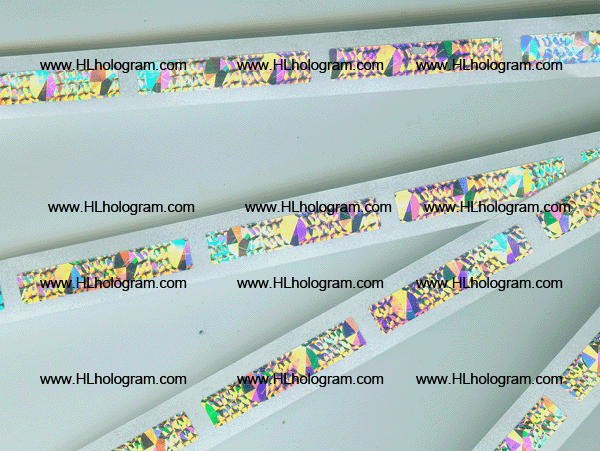 Scratch off hologram stickers carring Pin code, password or other information under the scratch coat are good secure and fool proof tools widely applied in the card industry. They are suitable for promotion, mobile fee charging, lottery,etc.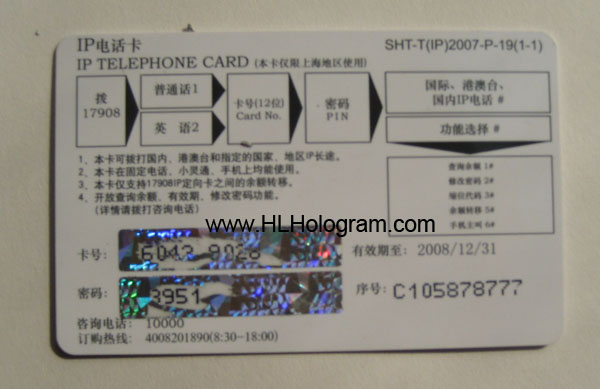 Phone card number and PIN code is covered by scratch off hologram label . After your scratch the hologram coating by nail or coin, you will see card number and PIN code on card. Such as prepaid scratch mobile charging card or ticket is widely used. Our scratch hologram labels are shining, beautiful, easily scratch with high tamper and security. These labels are applied by machine automatic and manual for small quantity requirement.

Combination of Dot-matrix (digital) hologram and 2D hologram, with kinematic guilloche elements. The more security features recombination into hologram made and the more further security functions we assembled onto hologram, the difficult counterfeiter to duplicate the hologram sticker.