Thicknessness of Hologram Base Material
We have different thickness of hologram sticker base material-metalized Aluminum film in thickness of 0.025mm, 0.036mm, 0.050mm. We also have different pressure sensitive material to make different hologram sticker. 25 Micron thickness is default thickness of our hologram stikcers. We have different color and pattern released material in thickness of 25micron in stock. We also can make customized thickness of hologram base film to satisfy special requirement
Hologram Ssticker Samples with Different Thickness 25 Micron 36 Micron 50 Micron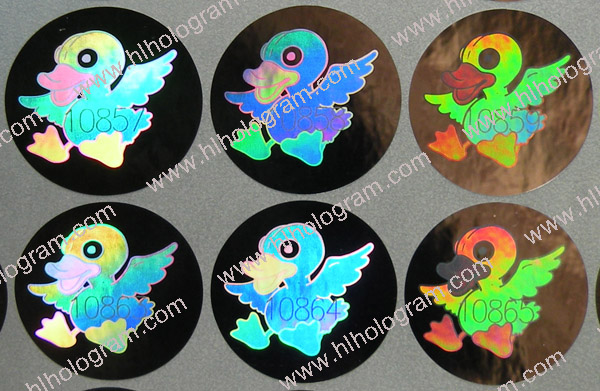 2D Hologram sticker, SECURITY, Rainbow Hologram Grating. 50 micorn thicness.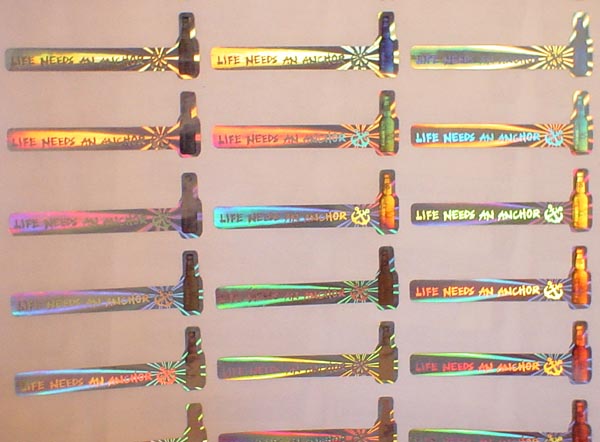 Speical cutting shape security holographic label. 50 microm thickness.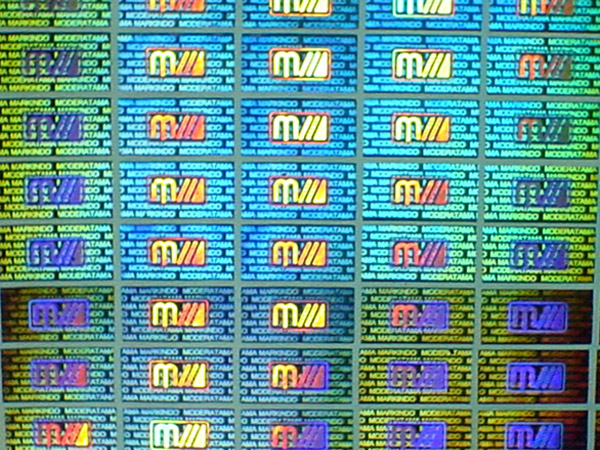 Customized design 2D/3D security holographic label.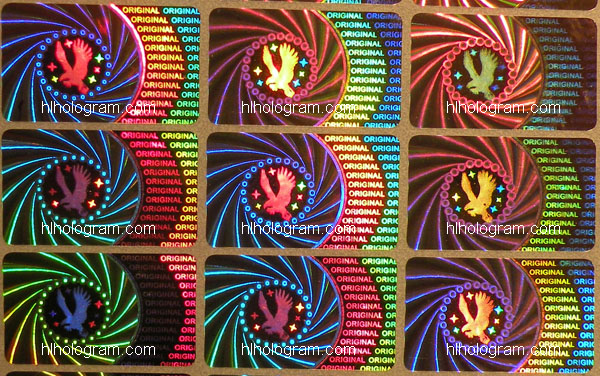 Security hologram label with rotation and zooming dots. 50 micron thicness.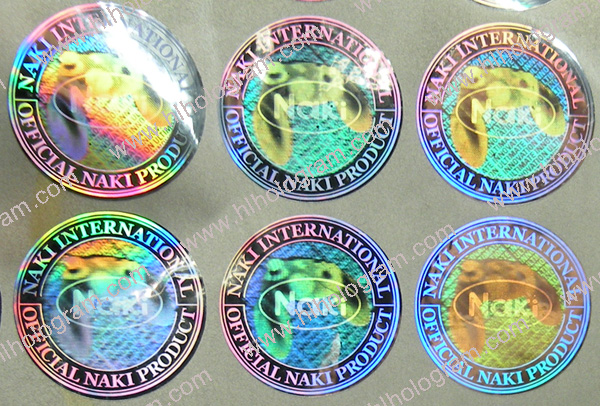 Customized design 2D/3D secure hologram label with company logo with small text on surface and another color repeated company name in located in deep second layer.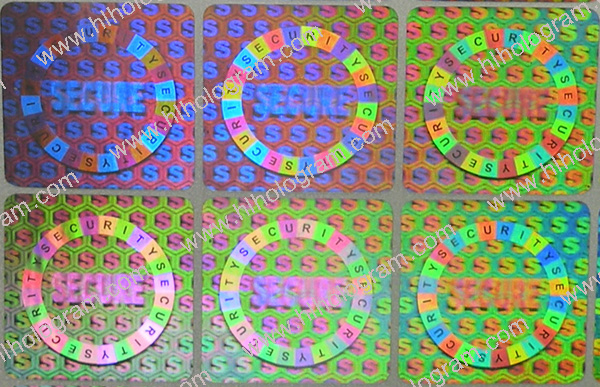 Customized design 2D/3D Hologram. 5 color, 3 layers hologram. SECURITY with SECURE Floating effect. 50 micron.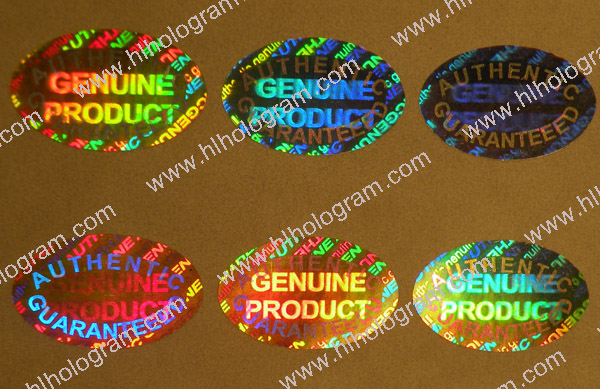 2D/3D secure holographic label, Tamper evident.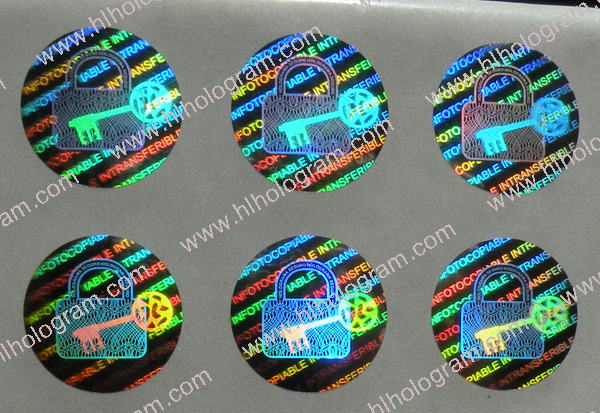 2D 3D Holographic seal with "Key" and "Lock" with flip flop effect.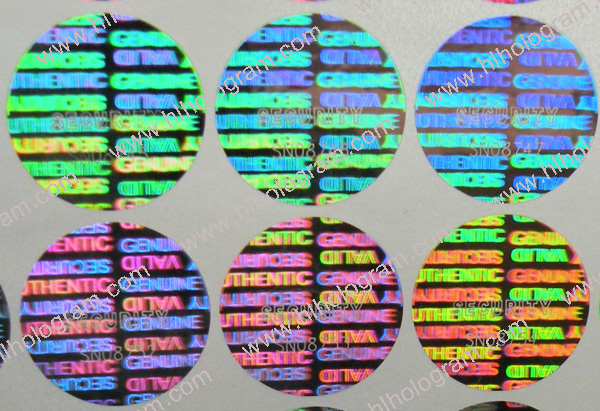 2D/3D holographic label has two layers. There's floating layer 'SECURITY', 'GENUINE' in first layer which is 1 cm above surface. surface. Another layer is 'VALID', 'AUTHENTIC' which is 1 cm under the surface layer. 50 microm thickness.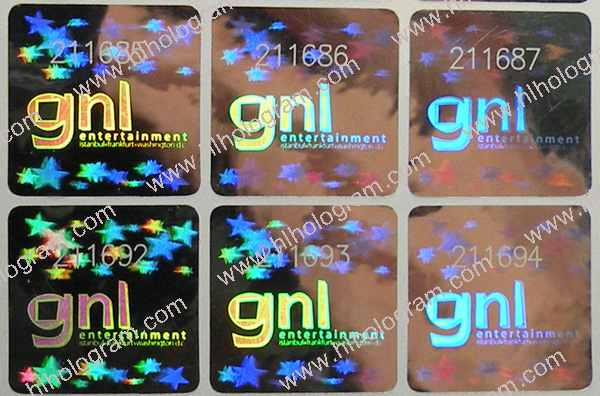 2D/3D holographic decal , with laser etched serial number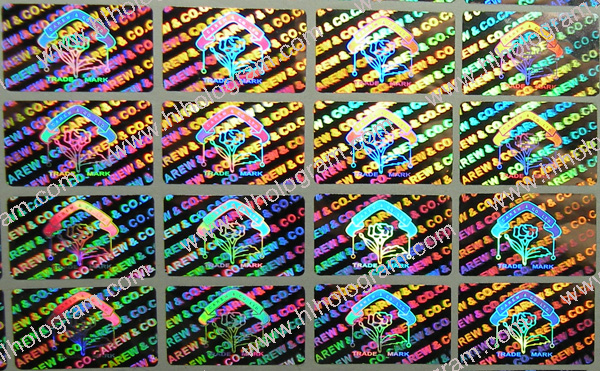 Customized design security hologram label, 2D/3D, 50 micron thickness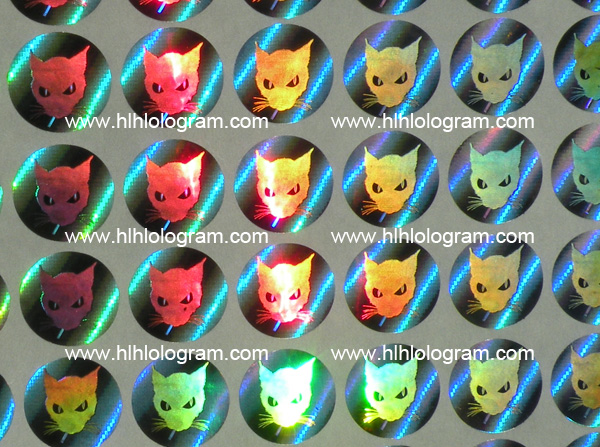 Dot-matrix kinematic movement background with pillar light hologram sticker. 50 micorn thickness.

Dot-matrix hologram with two channel(flip-flop). The sticker is tamper evident type, silver base color. 50 micron thickness.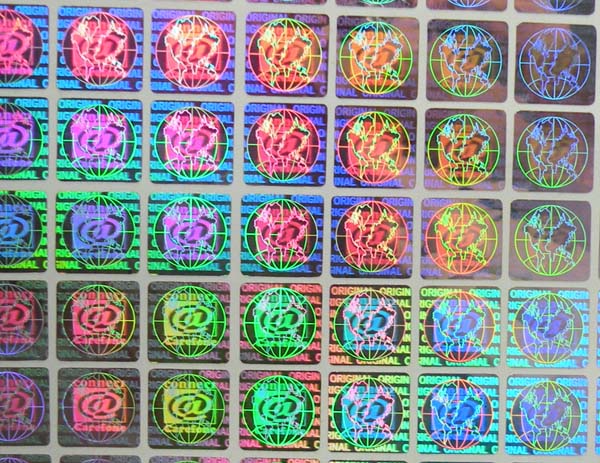 Silver color hologram sticker. Silver color aluminum PET foil is the material for this sticker. Flip-flop effect. 50 micron thickness.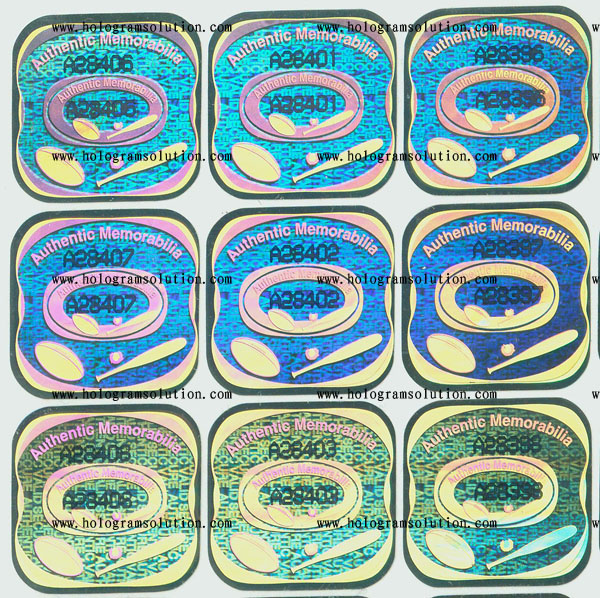 Twin consecutive serial number secure holographic sticker with two kiss cutting on one sticker. So one big size sticker can be separated into two small parts. This dual set serial number can be pre-printed and also can printed personally by customer with barcode printers.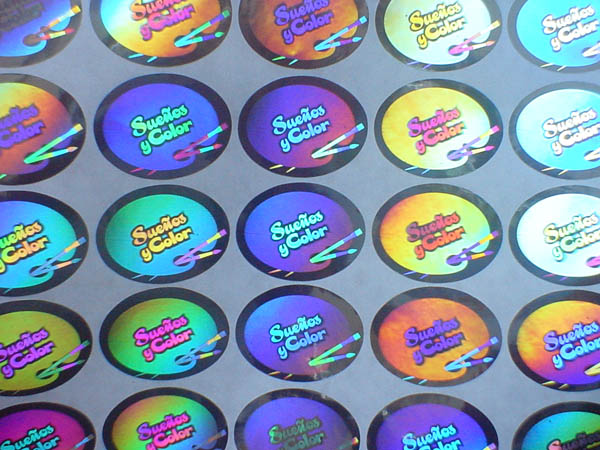 2D security hologram sticker, Tamper evident, 50 micron thickness.
Holograms made by individuals are usually exposed on very high resolution photographic film coated with a silver halide emulsion. Holograms made for mass production are exposed on a glass plate pretreated with iron oxide and then coated with photoresist. The photoresist material will chemically react to the specific wavelength of light that will be used to create the hologram. Because of their availability at a relatively low cost, helium-neon lasers are most commonly used by individuals who make their own holograms. Commercial hologram manufacturers use different laser types such as ruby, helium-cadmium, or krypton-argon ion. After exposure, the film or photoresist plate is processed in chemical developers like those used in photography. Both nickel and silver are used to make the production masters that will be used to stamp multiple copies of the holograms onto polyester or polypropylene film. Aluminum is used to create the reflective coating on the back of embossed holograms.