To present you a hologram - a unique high-technology products . Hologram on the label guarantees the authenticity of your products , improve its design and have a positive impact on the image of your company. All this leads to an increase in sales volumes.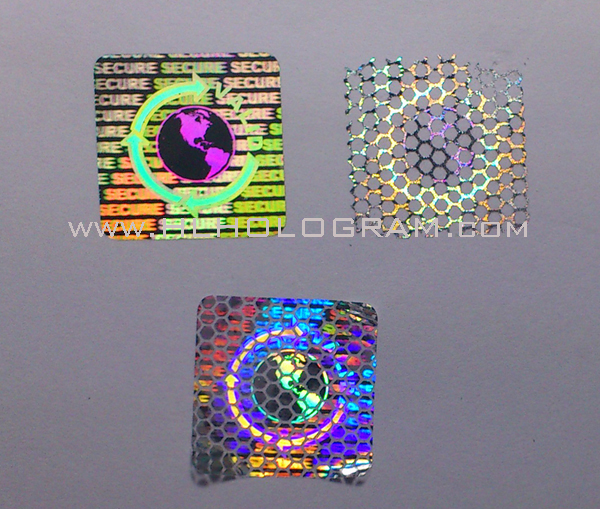 Secure holograms, Holographic foil, Holographic matrix, specific reflecting properties foil for unigram produce,
self-adhesive labels, Hot stamping foil, Design-project, Nickel matrixes for soft metals and alloy materials stamping; Holograms for postcards and souvenirs, image identifiers; wrapping materials with holographic image.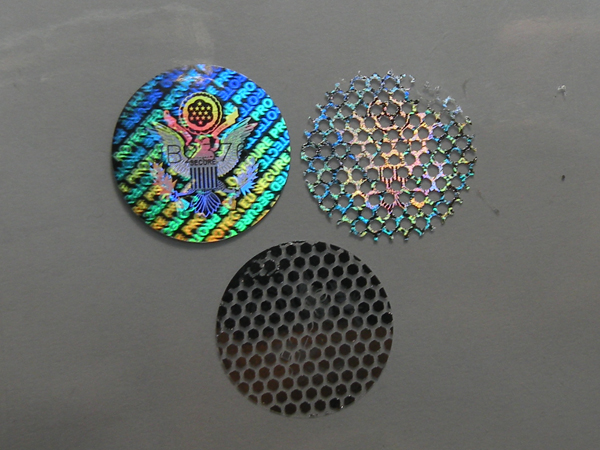 Holographic security labes, tamper evident, tamper proof, beehive shape, leave with hoenycomb residue.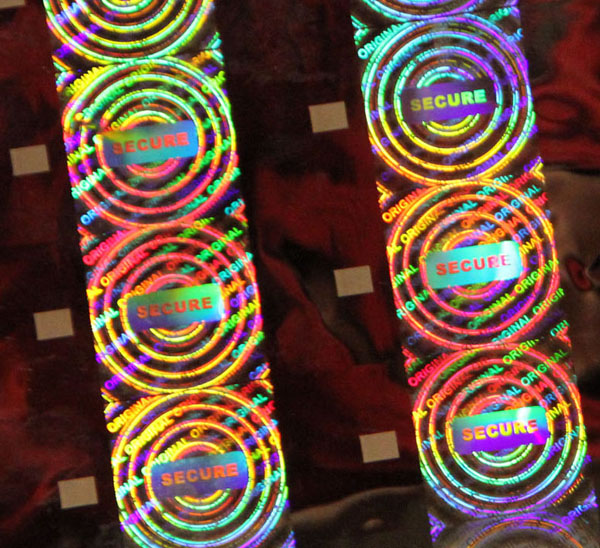 Hologram hot stamping foil with register tracking white eye mark.
Production of hologram is a complex physico-chemical process, which consists of a certain sequence of operations. Manufacture of holograms can be divided into several stages:

A. Requirements specification for the development of the hologram.
At this stage, discusses the design of the hologram, coordinated images, fonts, additional elements (micro text, hidden images, additional elements to identify, if necessary).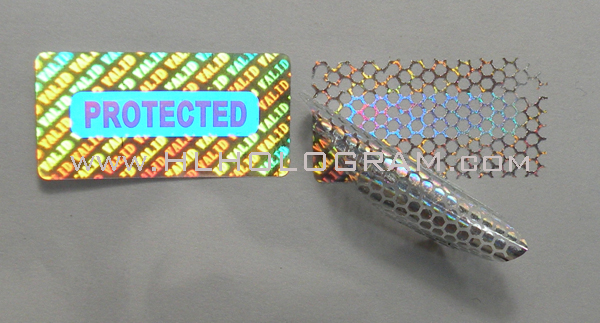 B. Recording a holographic image
Recording a holographic image is using laser light to an analog, digital or mixed schemes. After chemical treatment of photoresist is formed microrelief, which later forms the basis for all optical effects.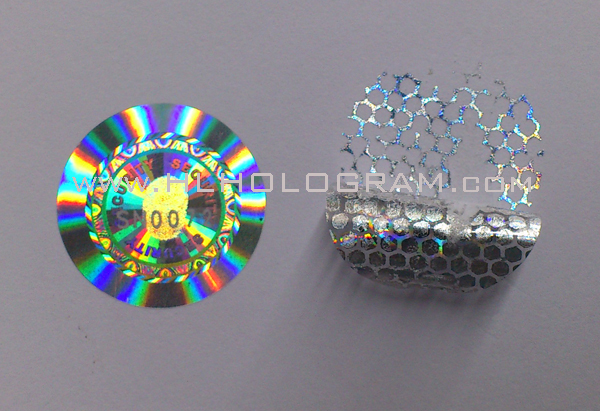 C. Production master matrix or 2D/3D or 3D
Master matrix is ​​the basis for the circulation of products. Elements of technology master matrix is ​​a "know-how" of each holographic company and are often not suitable for use with equipment from other manufacturers.
manufacturing workers matrices. Working matrix is ​​a tool for stamping holographic materials, ie She, unlike the master matrix, has the necessary firmness and is a copy. DOT-MATRIX Hologram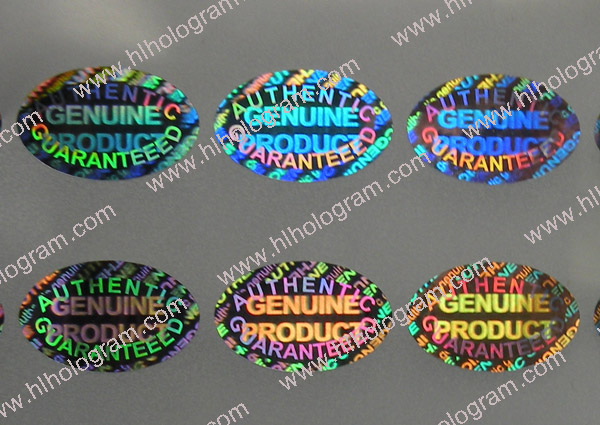 2D/3D or 3D use laser beam to record artwork film or object onto photoresist directly. Matrix system use small dots grating to combine hologram image. 2D/3D Hologram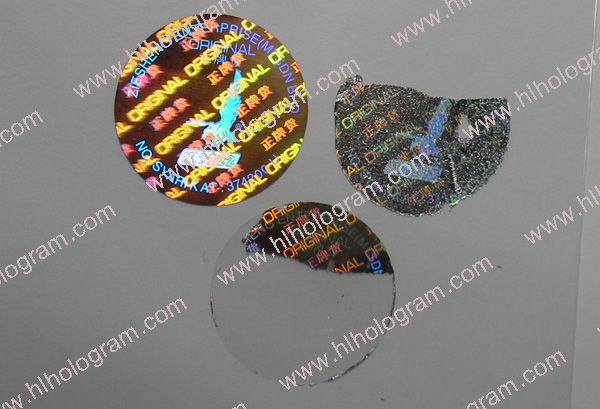 D. Replication by electronic forming, recombination onto a big size hologram master shim in nickel.
Duplication is on special equipment, which is a transfer of microrelief on certain material. After further stamping processes depend on what holographic material must be obtained - a holographic sticker or hot stamping foil.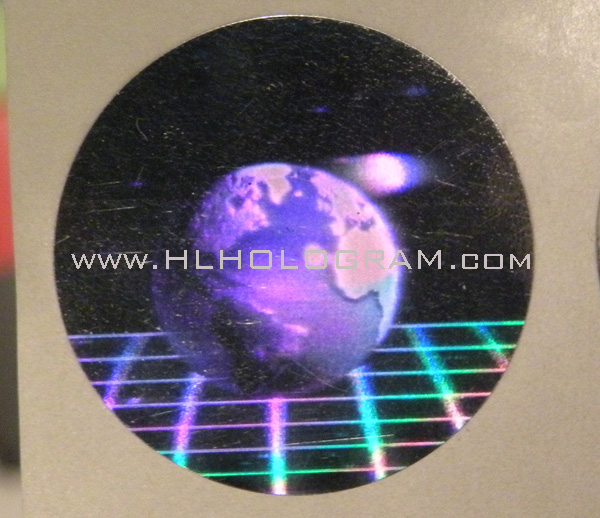 E. Embossing and Hologram Equipment
Embossing is to use hologram nickel shim to press holographic image onto PET, OPP, HRI coating material which can be Tamper Proof in sepcial material. The Tamper evident effect can be random tamper evident, VOID tamper evident, Honeycomb tamper evident, ORIGINAL tamper evident or Customized design tamper evident. The material color can be silver, golden, red, green, blue, transparent see through, etc.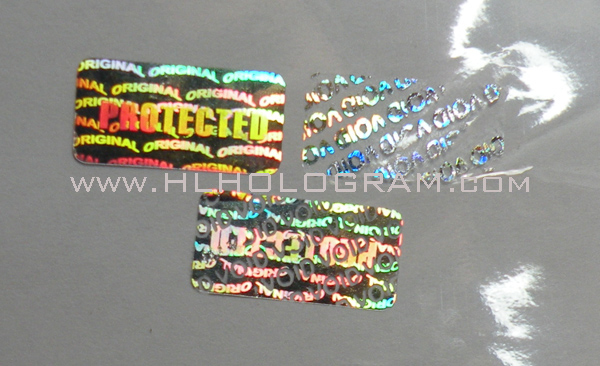 F. Coat gluing and cutting holograms
Upon receipt of hot stamping foil is applied thermosetting adhesive. Then, the foil is used for stamping on gilding presses on conventional technology.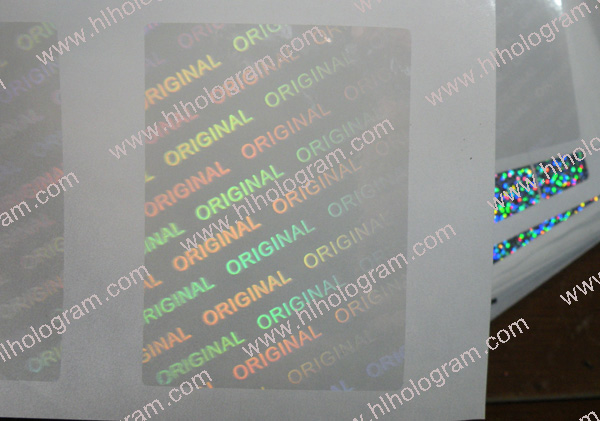 Upon receipt of the holographic sticker is used siliconised paper with adhesive. Depending on the type of foil can be auto-labels, labels with the effect of partial destruction or testing. Further labels with cutting dies and cutting plotter give definite shape and size.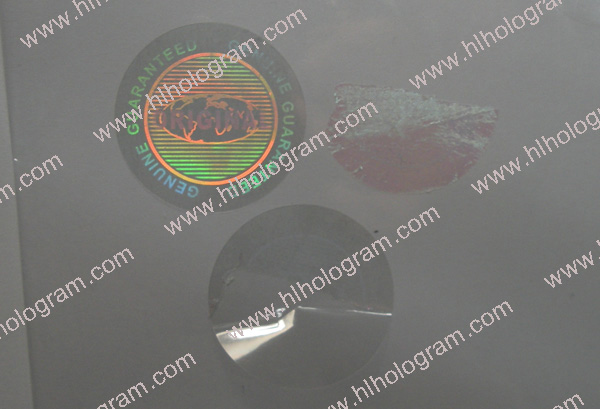 Holographic Sticker
If you are interested in protecting their products, hologram sticker is what will make it most effective and original, ensuring the authenticity of your product. Products with hologram sticker favorably from the competition, attracting the attention of consumers.

We offer you the following options security holographic stickers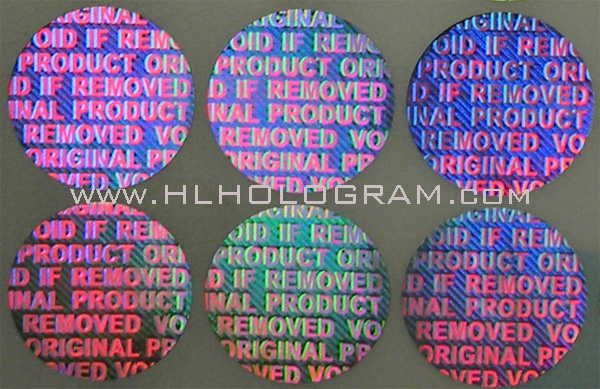 1) Unique hologram sticker with your cusotmized deisgn.
Developed on the basis of your sketch (or suggestions). Initially grown holographic matrix, 2D, 2D/3D, 3D, which can make virtually unlimited copies of holograms. The mateiral can be tamper evident, VOID tamper evident, ORIGINAL tamper evident, Beehive tamper evident, Transparent, VOID transparent. Serial numbering can be black ink numbering and laser etching number also.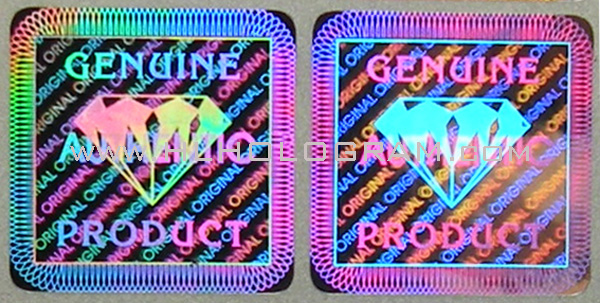 2) With a standard hologram holographic background with personalization.
They are made of holographic foil coated with an adhesive layer by cutting the correct size stickers and application of a printing termotranfernym printer (black, red, green, blue).
They are also can stock design hologram sticker, with color holographic foil - gold, silver, red, green, blue, transparent, etc.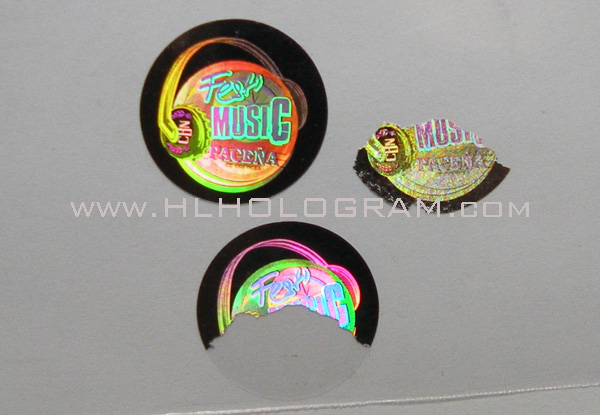 They can have logo and serial number onto standard hologram.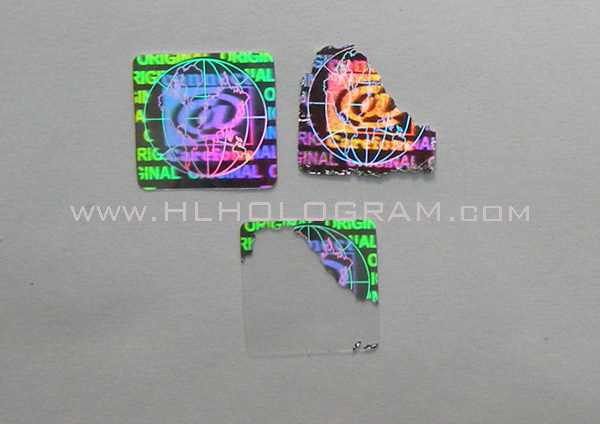 Fields of application:
manufacture of flexible packaging for seeds, nuts, chips, ice cream, etc.
laminated cardboard boxes and paper labels, making boxes for cakes, perfumes and cosmetics packaging
book covers, packaging boxes of audio and video, packing flowers, souvenirs

Our company is engaged in manufacturing of holographic pattern on BOPP films of various manufacturers. You can choose the BOPP film with already available in our holographic pattern or we can develop for you a unique pattern and put it on tape.