1200MM wide web soft hologram embosser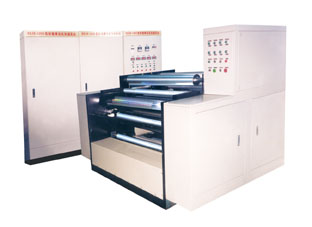 click link to see running hologram embosser or right click mouse to 'save as...' to download it Video1 Video2
1200mm width soft hologram embosser is designed for producing 1200mm width holographic film. It meets the up-date need of hologram printing and packaging industries or hologram gifts and decoration industries.
This machine is suitable for processing many material like BOPP, PVC, PET and CPP, extensively used in
manufacturing top grade fake preventing packing material.

Performance and Characteristics of soft hologram embosser£º

1. It only requires 20 minutes of heating to achieve work requirement, automatically coordinating with cooling system and realizing heat energy balance. Furthermore, It not only can save energyby two-third, but also work constantly and stably.
2. Jointing seam will not expand with hot.


Specifications:
1.Width of soft hologram embosser's roll: 1320mm
2.Width of Press Film: 1250mm
3.Max. Diameter of winding and rewinding: 580mm
4.Coling system: Oil and water cool system
5.Speed of Press Film: 0M-50M/Min.
6.Meter Counte: Automatic meter counter
7.Thickness of Material(Film, BOPP, PET, PVC): 0.012-0.200mm
8.Temperature controlling: temp.0--200C
9.Compressed air needs: 6 ATM
10.Frequency-change speed-change Motor: 2.2KW
11.Auto temperature perseverance system: 12.5KW
12.Total Power consumption: 16 KW
13.Weight of Main Hologram embosser: 1.5T
14.Hologram embosser dimension of Main Machine: W1800¡ÁL1200¡ÁH1500mm