Hologram is highly sophisticated technology designed to improve to protect and authentic various documents. Today hologram OVD unavoidable element in the most important personal documents by method of photographing fields of coherent light interference difraktovane an object and coherent background which gives a hologram with good security. There're many tyies of holographic security solutions for the protection of branded and value documents from counterfeiting in business, industry and government institutions area.
The way to reorder hologram onto photoresist:
1. Optical recording by laser as 2D/3D: 2D/3D holograms contain several image layers, which are visually placed one behind another and produce an effect of three-dimensional structure. This type of holograms is usually applied for goods, documents and stock papers.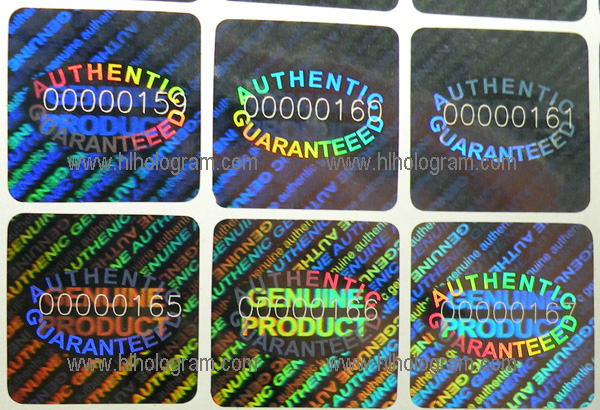 2D/3D Holographic labels.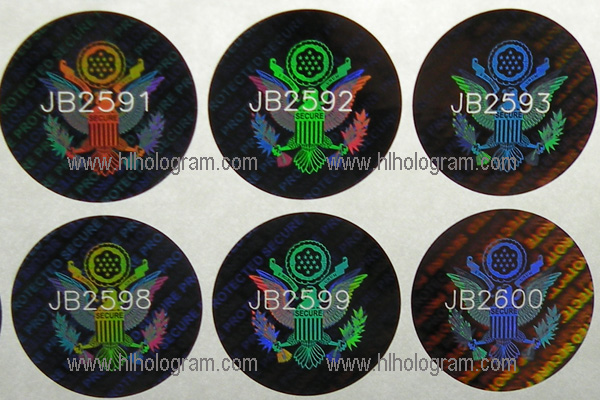 2D/3D Holographic sticker.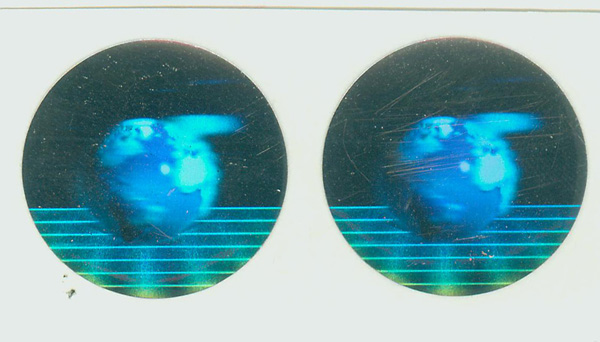 Three-dimensional hologram recorded by laser on 2D/3D optical lab.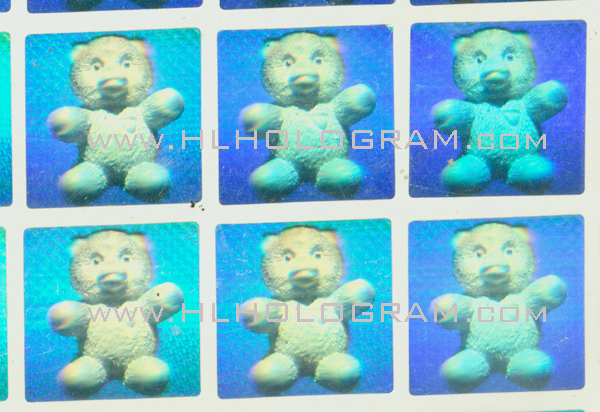 Three-dimensional laser holographic sticker is recorded by 2D 3D classical optics lab. 2D/3D Holographic Label Samples Page 1 2 3 4 5 6 7 8 9 10

2. Dot matrix holograms: Dot matrix holograms are computer generated in the way that an image is optically written dot by dot to construct the final picture. This technology allows generating very daring and unusual design ideas. Dot matrix created icons are particularly vivid and clear. The unique optical characteristics make dot matrix holograms an exceptional security feature.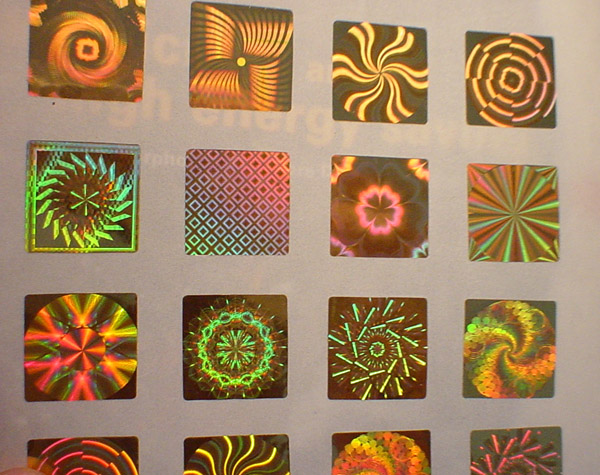 Dot matrix holographic label: Dot-Matrix Holographic Label Samples Page 1 2 3 4 5 6 7 8 9 10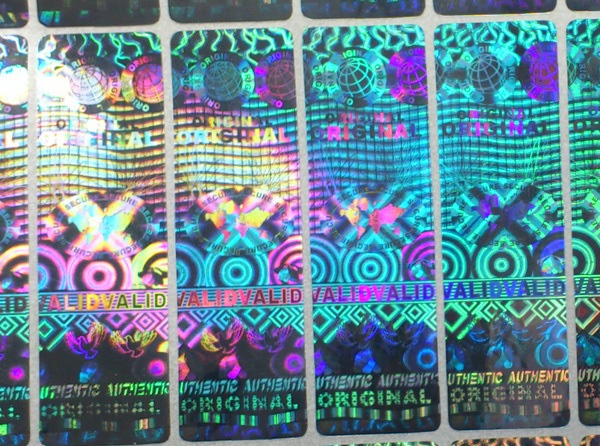 Dot-matrix kinetic holographic security labels.
3. E-beam holograms: E-beam technology makes it possible to create originals of computer-synthesized holograms with high level of protection. The holograms include elements that cannot be manufactured using other optical technologies.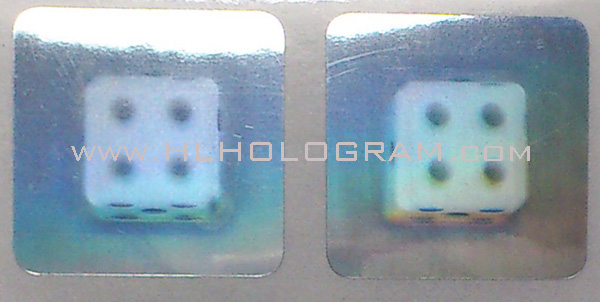 E beam holographic sticker with 3D effect.
Many security features on hologram label, holographic hot stamping foil:
Micro and nano texts:Texts can be applied onto holographic production to increase the security level. Such small texts cannot be seen without using special appliances, which makes them hard to imitate.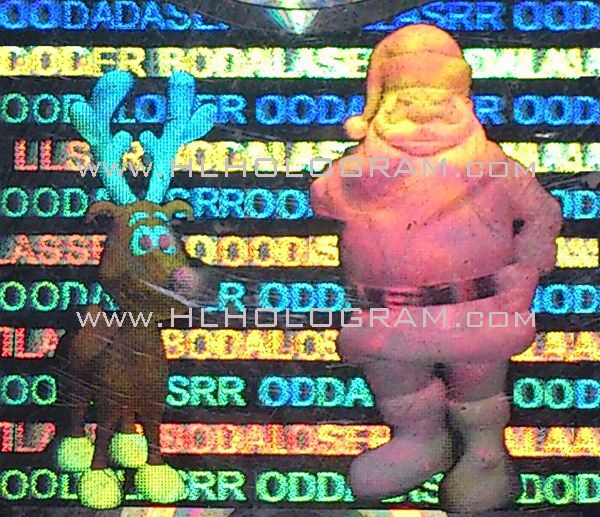 There're nano text on this laser holographic label.
Guilloche lines patterns: Patterns are made with sophisticated line interlacing. Such models can be used as a main element or integrated into any particular part of a hologram.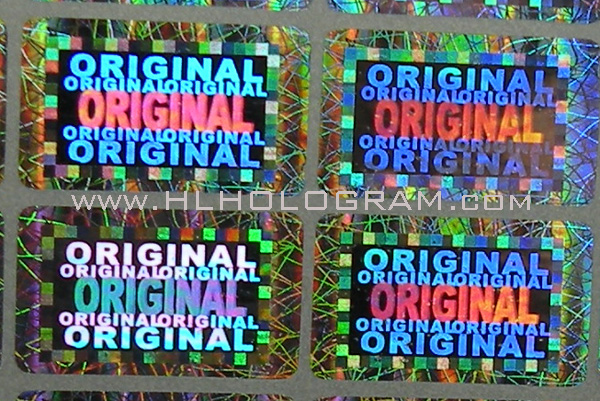 Dot-matrix kinetic holographic label with guilloche lines. Dot-Matrix Holographic Label Samples Page 1 2 3 4 5 6 7 8 9 10

Hidden images like CLR(Covert Laser Readable text/images) and Morie hidden text: These images cannot be distinguished with any type of ordinary optical equipment. They can only be identified with the help of special appliance using lasers. CLR images detect is a feature permits use of a simple laser device to control the authenticity of the hologram. CLR fragments produce animated images on the screen as the control device moves along the hologram surface.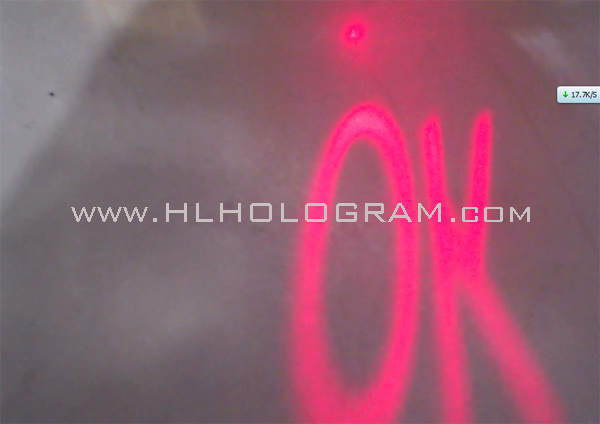 CLR hidden text or image is invisible to naked eyes in the standard lighting conditions. The red color 'OK' is refledted from holographic sticker and be viewed only with laser beam.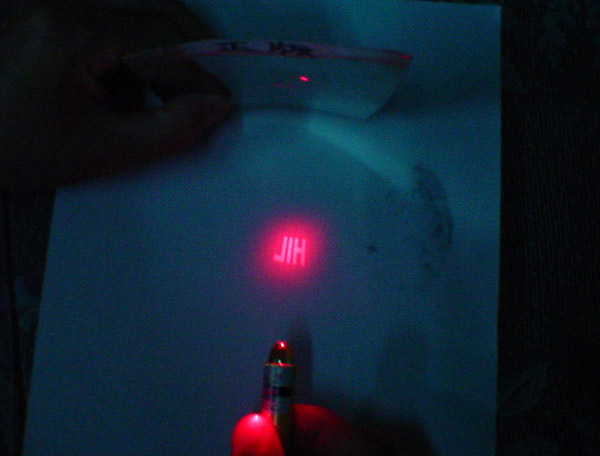 CLR hidden text or image is invisible to naked eyes in the standard lighting conditions. The CLR is JIH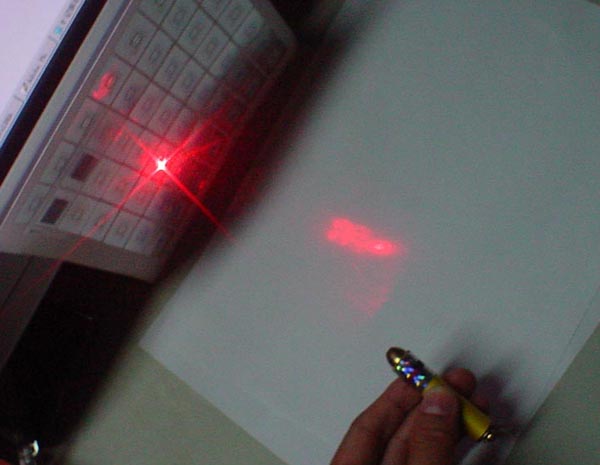 CLR hidden text 'SE' is invisible to naked eyes in the standard lighting conditions. It's read though laser pointer.
Switch effects or flip-flop: Effect of superimposing different images seen at different angles in the same place of hologram.
Flip-flop holographic seals. 2D/3D flip-flop effect holographic sticker samples 1 2 Dot-matrix flip-flop holographic sticker 1 2
Material for security holograms:
Holographic Labels: Hologram labels are supplied on rolls of silicone paper for automatic or manual application onto almost any substrate. Sequential numbering of labels is available. Colors: silver, gold, transparent. Most holographic labels are tamper evident hologram labels - once applied they cannot be transferred to another surface, any attempt to remove them results in destruction of the image. these hologram stickers are self adhesive and tamper evident. They can be used on various substrates to help protect, secure and authenticate different items.
Any tampering attempt may be obvious, as the stickers cannot be removed without destroying. Made with the use of latest technology, our hologram stickers are virtually impossible to duplicate or replicate.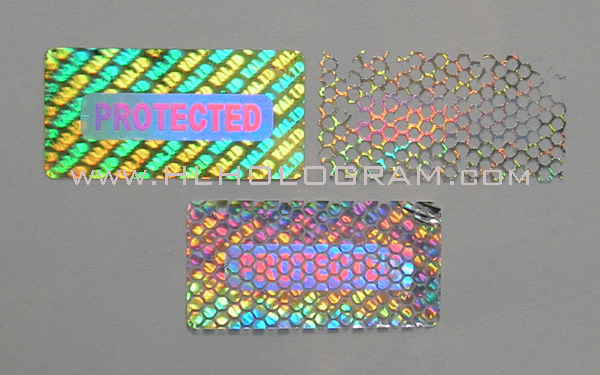 Honeycomb pressure temper evident holographic seal. Honeycomb Tamper Evident / Beehive Tamper Proof, Destructive Samples Page 1 2 3 4 5 6 7 8 9 10
Holographic seal which is combination of 2d 3D and dot-matrix hologram to create an impact that extra-ordinary viewing effects and also security features. Honeycomb Tamper Evident / Beehive Tamper Proof, Destructive Samples Page 1 2 3 4 5 6 7 8 9 10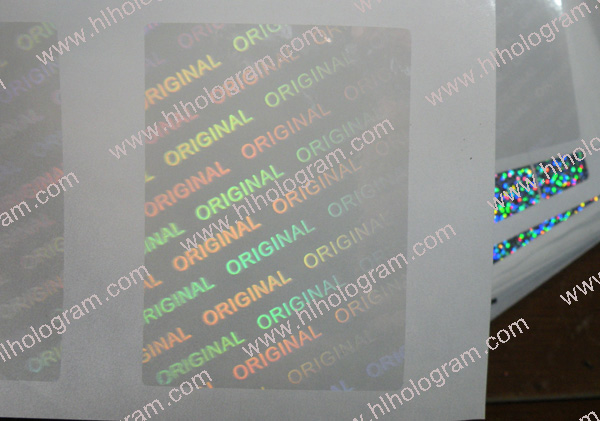 Transparent tamper evident material. Original transparent hologram labels.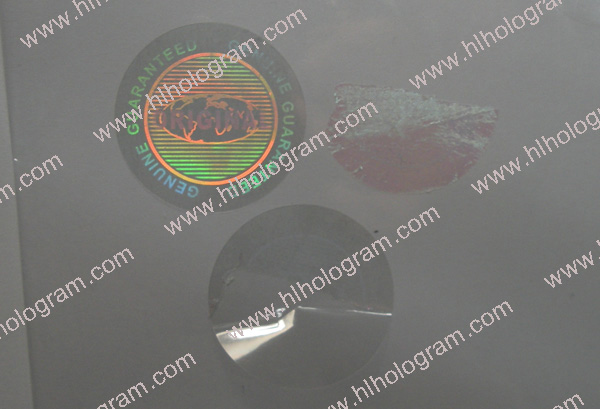 Transparent tamper proof material.
Hot stamping foil: Hot stamping foil with the holographic image is fused on to a paper or plastic surfaces, by means of heat and pressure. Once applied on to the host surface it becomes part of it and the image. The foil cannot be removed from the substrate intact.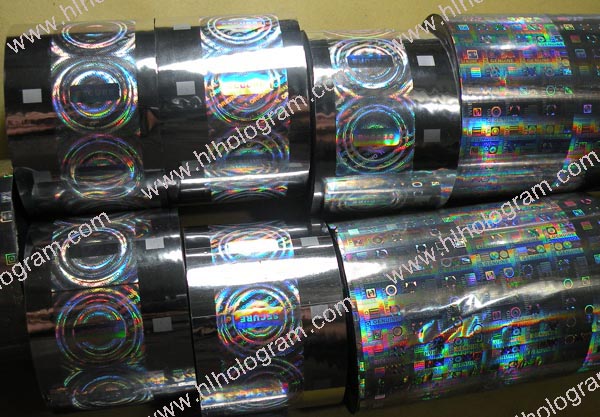 Holographic hot stamping foils.
There're two tyies of hologram hot stamping foil: 1.Image hot stamping foil with a registration mark for precise positioning of a hologram. 2.Wallpaper hot stamping foil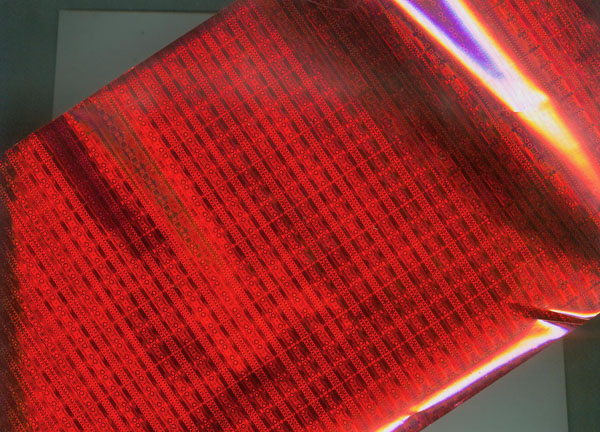 .Wallpaper hot stamping foil, red color with authetication, original security.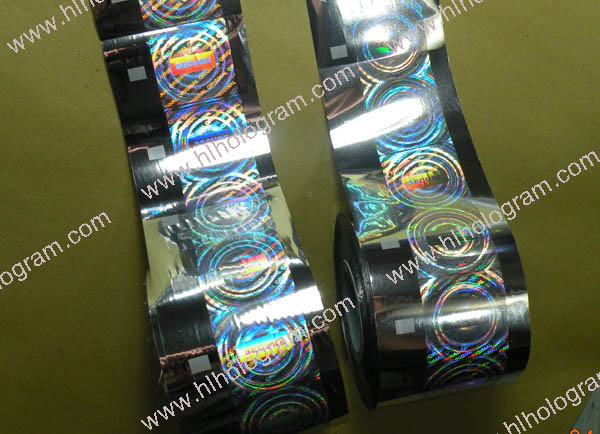 .Register design hot stamping foil, silver color, with white register eye mark for hologram stamping machine sensor tracking.

Combination of hologram features for security should be has highly innovative developments technicians: Anti photocopy. Anti chemical falsification, Anti thermal falsfication, Anti mechanical falsification. By combining these multiple technologies, Fasver offers unique solutions to meet or exceed your technical requirements.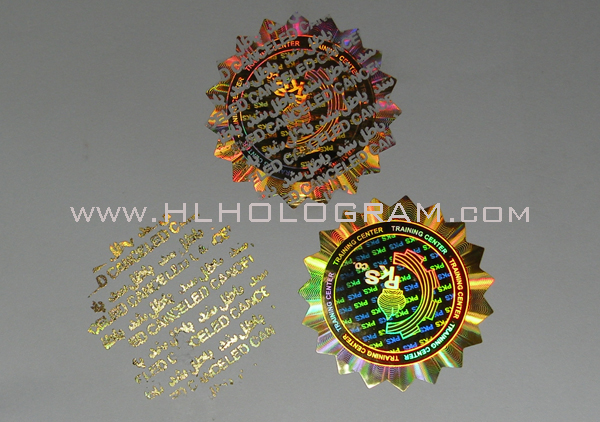 Combination holographic label with pressure temper eviden leave some kind of image when removed. The remains can be in some kind of customer designed shape. Circle image is widely used. Non pressure temper evident holographic sticker. This hologram combine 2D/3D, dot-matrix, CLR.
Silver color sSelf-adhesive holographic label with double numbering code.